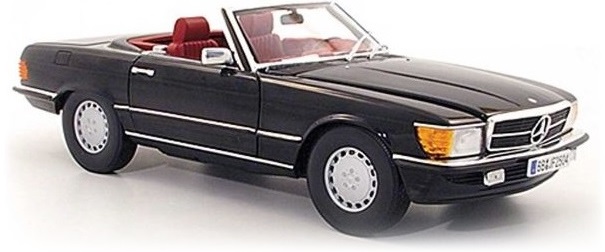 Modifications to the U.S. Mercedes R107 Series from 1972-1989
R107 Production Modifications
Year
Model
HP
1972
350SL

4.5

195
107 introduced to U.S.

4.5-liter, Iron-block V8 117.982. Bosch electronic fuel injection.

3-speed automatic

Power-assisted steering, air conditioning, hard and soft-tops were standard.

Chassis: 107.044

1973
450SL
"
Rebadged to 450SL
1974
190
Addition of 5-mph bumper
1975
"
180
Addition of catalytic converters (in engine compartment).
1976
"
"
117.985

Addition of cruise control, transistorized ignition, hydraulic valve adjusters

Switch to Bosch Jetronic (CIS) fuel injection. K-Jetronic

1977
"
"
Catalytic convertors moved downstream. Catalytic converters moved back beneath the floor

Climate-control system introduced (Type 1)

Battery moved to trunk

1980
"
160
3-way catalytic converter introduced, final drive ratio reduced
1981
380SL
155
380SL introduced. Chassis: 107.045

116 3.8 liter all-alloy V-8 116.960 V8

4-speed automatic.

Electric window lifts are standard.

The hood was made of aluminum and an "economy" dial was added.

1982
"
"
Type II auto climate control
1983
"
"
116.962

Recalibrated engine and transmission for improved performance and fuel economy.

1984
"
"
Switch from single-row to twin-row timing chain.
1985
"
"
ABS became standard; driver-side airbag was optional.
1986
560SL
227
Chassis: 107.048

- 5.6-litter, all-alloy V-8 (117.967) and 4-speed transmission into U.S. market.

Limited-slip differential, front air dam, leather upholstery, anti-theft alarm are standard.

new-style 7x15in alloy wheels.

1988
"
"
1989
Last year of 107 production.
R107 Production Enhancements
The springs have a different spring rate, front and rear.
The front stabilizer bar has a 26mm diameter instead of 25mm diameter.
The shock absorbers are shorter and have a harder rate.
An additional polyurethane bottoming spring has been added.
Some model 124 front end parts are used on the front end - the following parts are redesigned
Front axle carrier, lower and upper control arms, Steering knuckle,
Steering knuckle arm, front wheel hub with bearing.
The front axle carrier has a newly modified contour, can be used on older model 107s.
Limited slip differential
The rear axle carrier mount has been offset by 124mm to the left.
The rear carrier front rubber mounts are not interchangeable, marked with L and R, have different stiffness's.
The rear axle center is now elastically mounted to the rear carrier both at the front and rear mounts.
The rear axle shafts are provided with CV joints similar to model 126 coupe.
New light alloy wheels similar to model 201, new mounting screws.
New propeller shaft center mount, similar to model 124, not interchangeable with older 107s.
Four piston brake calipers on front.
Light alloy Master cylinder.
Double diaphragm brake booster.
Redesigned steering gear, designation 765.707 (LS80), NOT interchangeable with old unit, reduced travel for redesigned front end. Code letter R stamped into the housing. (The 560's turning circle is not as short as previous cars, less "sensitive" steering.
Power steering pump relief pressure changed to 82 +-5 bar.
Sheet metal floor under fuel tank changed, mounting positions of tank and filler neck changed.
Outside Temperature indicator changed from Celsius to Fahrenheit.
Exterior lamp failure indicator added.
Fuses and electrical feeds changed.
BODY SHEET METAL CHANGES: Radiator mount changed, hood changed, firewall changed, side-member connecting point front right changed, A-pillars changed, doors changed, B-pillars changed, main floor changed, rear floor changed, cross-member under the driver seat changed, sheet metal shrouds changed, various stiffeners and small parts changed.
Door handles changed, similar to model 126.
Door lock and striker changed.
Central locking system changed, electric vacuum pump similar to models 126 and 201.
Fuel tank flap actuating element and guide bushing changed.
Outside heated rear view mirrors.
Rear high mounted stop lamp added.
New Grand Prix radio - larger display indicator with tone setting and more sensitivity - three levels, but returns to least sensitive when turned off.
Front bumper and spoiler.
Front bumper inner fender liners added.
Front seats changed to include lateral
Hood- a depression was added to the hood reinforcement to clear new brake booster, previous hood will not fit on car.
SAVE BIG $$$$$$ IN REPAIR AND MAINTENANCE COSTS!!!